What is a shepherd? What is the role of the shepherd? Are Pastors Shepherds? Can we tell the difference between a shepherd and a hireling? And what do we need to know about wolves? Let's take a quick look and see what the scripture says!
What is a Shepherd?
A shepherd is one who care for flocks. Flocks can consist of goats, sheep, or birds. Let's stick with sheep for this post. The shepherd leads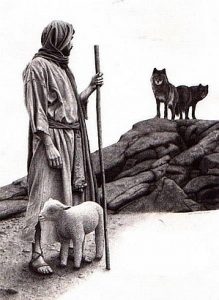 the flock to fresh pasture for grazing and fresh water for drinking. Shepherds don't make the flocks eat and drink. They just make sure it's available and the flocks graze at their leisure. The shepherd must always be on the lookout for dangers such as predatory animals, snakes, and snares. The shepherd is aware that he might have to defend the flock with his life.
Are Pastors the Shepherd in the Church?
Most people would say the Pastor is the Shepherd. But is that what the bible says? Have we confused the roles of Shepherd and Pastor?
Therefore thus saith the LORD God of Israel against the pastors that feed my people; Ye have scattered my flock, and driven them away, and have not visited them: behold, I will visit upon you the evil of your doings, saith the LORD. Jeremiah 23:2
Here we see Pastors are given the task of feeding the flock. As far as possibly being an "Under-Shepherd" goes, because we are all "the sheep of His pasture" (Psalm 95:7, 100:3), how can one be a Shepherd and a sheep at the same time? So, since we as the flock belongs to Christ, wouldn't that make Christ the Shepherd?
Behold, the Lord GOD will come with strong hand, and his arm shall rule for him: behold, his reward is with him, and his work before him. He shall feed his flock like a shepherd: he shall gather the lambs with his arm, and carry them in his bosom, and shall gently lead those that are with young.  Isaiah 40:10-11
We see both Jeremiah and Isaiah state The Lord is the Shepherd. The flock (the people) belong to Him! Let's see if scripture further confirms this.
The Shepherd of the Flock
The LORD is my shepherd; I shall not want.  Psalms 23:1
We quote the 23rd Psalm constantly, but because we are told otherwise, that first phrase escapes our reason. David calls The Lord his Shepherd.
I am the good shepherd: the good shepherd giveth his life for the sheep.  John 10:11
Here Jesus tells the disciples He is the Shepherd! And again…
I am the good shepherd, and know my sheep, and am known of mine.  John 10:14
And when he putteth forth his own sheep, he goeth before them, and the sheep follow him: for they know his voice. And a stranger will they not follow, but will flee from him: for they know not the voice of strangers. John 10:4-5
So scripture does confirm that Christ is our Shepherd! Because a shepherd gives his life for the sheep, He is the only one that can fit the bill. Because Christ did indeed give His life for us! When we truly follow Jesus, we will not follow anyone else. In other words, we will not follow strange spirits, words, and doctrines. And strange is whatever cannot be found in and/or does not conform to God's Word. Remember, Jesus is the Word! (John 1:1) If you are claiming a Shepherd other than Christ, consider what happened to Israel when they wanted a Shepherd other than God. (1 Samuel 8:10-18)
So, What are Pastors?
And I will give you pastors according to mine heart, which shall feed you with knowledge and understanding.  Jeremiah 3:15
And he gave some, apostles; and some, prophets; and some, evangelists; and some, pastors and teachers;  Ephesians 4:11
Pastors are teachers with the heart of God. They are servants-sheep. And they are given, by God, the responsibility of feeding God's people. Of course because sheep as used in scripture is symbolic, how we are fed is different. God wants us to care for one another. But God's people cannot be fed anything. I mean, you can get a sugar-coated treats and philosophies of men from self-made or man-made Pastors anywhere. God's true Pastors provide meals full of true biblical knowledge and understanding. They don't assume to shepherd the people. They just feed them God's Word. In fact, they need feeding too, just like everyone else! Jesus drove this home to Peter in John 21:15-17.  He did not make Peter a shepherd, but a teacher. Now the Apostle Peter tells us who the Shepherd is…
For ye were as sheep going astray; but are now returned unto the Shepherd and Bishop of your souls. 1 Peter 2:25
Ok, so what is a Hireling?
But he that is an hireling, and not the shepherd, whose own the sheep are not, seeth the wolf coming, and leaveth the sheep, and fleeth: and the wolf catcheth them, and scattereth the sheep.  John 10:12
I've heard different interpretations of this verse over the years. But a hireling is someone who, given charge to watch over God's flock (The Elders – Apostles, Prophets, Bishops, Evangelists, Pastors, Teachers – Hebrews 13:17), does not protect them. They run when wolves come. So a Pastor who feeds God's people is a hireling if they allow wolves to enter in and scatter the flock! And what does scattering the flock mean? It's not people running from the Church. But running from the truth! People run after false teachers and people who make themselves apostles and prophets and are deceived by them.
For such are false apostles, deceitful workers, transforming themselves into the apostles of Christ. And no marvel; for Satan himself is transformed into an angel of light. Therefore it is no great thing if his ministers also be transformed as the ministers of righteousness; whose end shall be according to their works.  2 Corinthians 11:13-15
I know thy works, and thy labour, and thy patience, and how thou canst not bear them which are evil: and thou hast tried them which say they are apostles, and are not, and hast found them liars:  Revelation 2:2
Wolves Are Everywhere!
For I know this, that after my departing shall grievous wolves enter in among you, not sparing the flock. Also of your own selves shall men arise, speaking perverse things, to draw away disciples after them.  Acts 20:29-30
Wolves are everywhere. And they have one thing in mind. Chasing and eating! Okay, that's two things. The point is, wolves are merciless killers who have no regard for anything other than their own needs and desires.
Wherefore by their fruits ye shall know them.  Matthew 7:20
Wolves are notorious for manipulating the Word to satisfy their own agenda. They teach contrary doctrine, theologies, and beliefs as truth. They prey on the weak (minded and willed).
But there were false prophets also among the people, even as there shall be false teachers among you, who privily shall bring in damnable heresies, even denying the Lord that bought them, and bring upon themselves swift destruction. And many shall follow their pernicious ways; by reason of whom the way of truth shall be evil spoken of. And through covetousness shall they with feigned words make merchandise of you: whose judgment now of a long time lingereth not, and their damnation slumbereth not.  2 Peter 2:1-3
They take advantage of and use everyone they can. And if not submitted to, they sometimes manipulate and threaten. If you resist, you are likely to be wounded and eaten. Wolves see themselves at the top of the food chain… You'll know them. They scheme and are always on the prowl. Watch them. They, like flocks, run together in packs. One more thing and this is important… They often look just like sheep! And because they do, many run after them. Can you imagine? Sheep running behind wolves that look like sheep? And where do you think the wolves will lead them? Paul said don't be fooled because they look and sound holy. Try (prove, test) them by the Spirit and by the Word.
Beware of false prophets, which come to you in sheep's clothing, but inwardly they are ravening wolves.  Matthew 7:15
Beloved, believe not every spirit, but try the spirits whether they are of God: because many false prophets are gone out into the world. 1 John 4:1
Conclusion
Now the God of peace, that brought again from the dead our Lord Jesus, that great shepherd of the sheep, through the blood of the everlasting covenant,  Hebrews 13:20
And when the chief Shepherd shall appear, ye shall receive a crown of glory that fadeth not away.  1 Peter 5:4
Jesus is our Good Shepherd! He is the only Shepherd of the flock. We are all the sheep of His pasture. We are all on equal footing in God's sight! No one is greater or lessor because of what they do. If anything, those who want to do a work for God ask for a tremendous responsibility with eternal ramification. But God places His gifts in those He chooses by the Holy Spirit. Christ, as our Good Shepherd, led us from sin and death, back to the safe and bountiful pastures of the Father. Those who labor in the field make sure the flock is well fed and our Shepherd protects us by His Word and His Spirit from the wolves. Know God. And know those who labor with you. (1 Thessalonians 5:12)